Dessrts & Cookies

(Recipe Collection)
16 Recipes Created by DEBCOPE01
Recipes in this Collection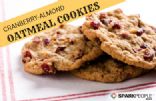 Cranberry-Almond Oatmeal Cookies
Pumpkin is subbed for butter in this lowfat treat! Cranberries and almonds add flavor and nutrition!Submitted by CMWELLS83
Carbs: 14.4g | Fat: 1.2g | Fiber: 1.3g | Protein: 1.6g | Calories: 64.3
Stolen Pumpkin Cheesecake
I stole this. It was a featured spark recipe on July 17. The original recipe had 233 calories per serving and I thought I could do better than that.Submitted by LEPRECHAUN0610
Carbs: 9g | Fat: 2g | Fiber: 1.3g | Protein: 11.7g | Calories: 93.2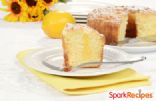 Pineapple Angel Food Cake
Just two ingredients create this light and delicious dessert!Submitted by DOCKERYLB
Carbs: 34.6g | Fat: 0.2g | Fiber: 0.4g | Protein: 3.1g | Calories: 147.9
This recipe has been marked private.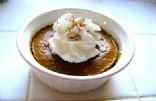 Pumpkin Custard
A treat for when you're craving the taste of pumpkin pie.Submitted by ~PENNY~
Carbs: 17.6g | Fat: 1.1g | Fiber: 2.3g | Protein: 7.2g | Calories: 103.8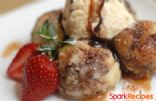 Chocolate Cinnamon Bread Pudding
When the craving for chocolate hits, try this Chocolate-Cinnamon Bread Pudding. The warm melted chocolate makes it a definite comfort food, while the whole wheat bread and evaporated skim milk adds to its nutritional punch.
Carbs: 92.7g | Fat: 5.3g | Fiber: 3.8g | Protein: 15g | Calories: 426.3
Jiffy Chewy Bars
Chocolate chip chewy bars using Jiffy Golden Yellow cake mix.
Carbs: 27.1g | Fat: 7.6g | Fiber: 0.4g | Protein: 2.6g | Calories: 181.3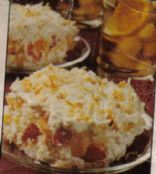 Fruit and Angel Dessert
By chilling the dessert overnight, the fruits moisten the cake for easier cutting and meld the flavors. Yummy! Great in the summer and company loves it!Submitted by JEANSHEP2
Carbs: 42.9g | Fat: 4.1g | Fiber: 1g | Protein: 3.9g | Calories: 216.9
Sugar Free Flourless Chocolate Cake
This is pure heaven for chocoholics! This is a very rich dense cake for those watching their carbs, you will feel like you are cheating. Watch out though this is very rich, you can cut it into smaller pieces.Submitted by BPRWATSON
Carbs: 12.2g | Fat: 18.8g | Fiber: 2.7g | Protein: 4.5g | Calories: 211.3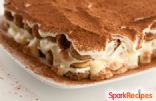 Low Fat Tiramisu
This boozy, low-fat creamy Italian dish is lightly sweetened, with a hint of rich cocoa and a punch of coffee flavor.Submitted by CELTICBABE6785
Carbs: 23g | Fat: 2.1g | Fiber: 0.2g | Protein: 8.4g | Calories: 160.4
Send this recipe collection to a friend - http://recipes.sparkpeople.com/cookbooks.asp?cookbook=423995