Apple Pie Cupcakes
Simple and delicious, can be iced with caramel or cream cheese icing if you like but it is good alone.
Makes 20-24
1 box yellow cake mix, 1 egg, 1/4c.water, and apple pie filling. Mix all ingredients and Place in cupcake tin and bake at 400* until golden brown and knife comes out clean.
(1 Recipe) Created by RYANSGRL4
Recipes in this Collection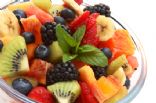 Very Good 4.3/5
When looking for something stunning to serve at the next spring or summer gathering, try this quick and easy fruit pizza. It makes a delicious, refreshing dessert and a colorful centerpiece.
Carbs: 39g | Fat: 8.2g | Fiber: 0.7g | Protein: 5.1g | Calories: 247.6