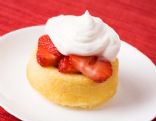 Delicious Foods
Yummy Foods of all Kinds.
(2 Recipes) Created by MEGER32
Recipes in this Collection
Very Good 4.7/5

(161 ratings)

This is something I learned at Weight Watcher's a very long time ago. It tastes just like an ice cream sandwich and so many less calories!

Submitted by MSCAT3851

Carbs: 13.5g | Fat: 1.8g | Fiber: 0.5g | Protein: 1g | Calories: 77.5

This recipe has been marked private.