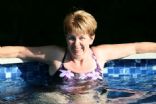 Dawn's Favorite Recipes
I'm a Weight Watcher's Core follower-most of the time. When I'm not I try to stick with the healthiest foods I can find. The simpler the recipe, the better. So if I don't have a lot of recipes here its only because I really don't follow a lot of them to the letter.
(3 Recipes) Created by DUSTY57
Recipes in this Collection
Very Good 4.4/5

(18 ratings)

A fat free way to add some kick to your raw veggies.

Submitted by CHILISM

Carbs: 6.3g | Fat: 6.2g | Fiber: 0.1g | Protein: 5.9g | Calories: 105.1

Replace the traditional biscuit topping with whole wheat fillo dough for a quick and light dessert.

Submitted by STEPFANIER

Carbs: 36.1g | Fat: 2g | Fiber: 4.2g | Protein: 2.9g | Calories: 163.1

This recipe has been marked private.