salads summer

(Recipe Collection)
9 Recipes Created by SPARKFRAN514
Recipes in this Collection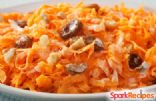 Carrot-Cranberry Salad
Kid prepared and approved! I am always looking for a salad that my kids can make and then devour. This is a winner for kids and moms. Submitted by CHEF_MEG
Carbs: 21.5g | Fat: 0.2g | Fiber: 4.1g | Protein: 1.3g | Calories: 86.8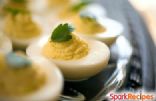 Deviled Eggs
Chef Meg lightened up a picnic and potluck favorite! Her secret ingredient (shh, don't tell!) is pickle juice.

Submitted by CHEF_MEG
Carbs: 1.8g | Fat: 5.5g | Fiber: 0.2g | Protein: 6.4g | Calories: 85.3
Garden Potato Salad
Low-fat cottage cheese is the secret to the dressing in this delicious and simple summer side.
Carbs: 22g | Fat: 0.2g | Fiber: 3g | Protein: 3.9g | Calories: 99.8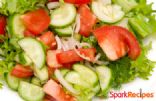 Oh Boy, Salad!
This was my great-grandfather's favorite salad. He didn't like lettuce, so when he saw this salad coming out, he always said, "Oh boy, salad!" thus the name. Submitted by TANGO5617
Carbs: 12.8g | Fat: 5.4g | Fiber: 3g | Protein: 2.5g | Calories: 101.3
Potato Salad
Simple, best referigerated for 2 hrsSubmitted by MBROSNAHAN
Carbs: 21.2g | Fat: 6.9g | Fiber: 2g | Protein: 4.3g | Calories: 160.3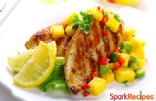 Tropical Grilled Chicken
We love shredding this sweet and savory chicken to turn it into tacos, but it's also delicious as is with a side of grilled veggies.Submitted by CHEF_MEG
Carbs: 33.8g | Fat: 3.4g | Fiber: 3.5g | Protein: 27.5g | Calories: 264.8
This recipe has been marked private.

Cashew Chicken
A Chinese takeout favorite, with a fraction of the salt and fat. Submitted by CHEF_MEG
Carbs: 25.2g | Fat: 6.9g | Fiber: 3.7g | Protein: 28.5g | Calories: 267.5
Send this recipe collection to a friend - http://recipes.sparkpeople.com/cookbooks.asp?cookbook=481706