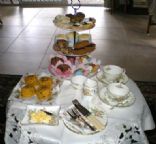 Afternoon Tea
Why, in these modern days of rush, would I do a booklet on an afternoon tea??
It's an opportunity to slow down, to smell the roses, there is nothing more relaxing and than an elegant afternoon tea on the patio, within sight of the garden.
Enjoy this sometimes whimsical glimpse into yesteryear!!
(19 Recipes) Created by EMMABE1
Recipes in this Collection
Submitted by EMMABE1

Carbs: 8.3g | Fat: 0.8g | Fiber: 1.1g | Protein: 2.5g | Calories: 53

Submitted by EMMABE1

Carbs: 23.6g | Fat: 5g | Fiber: 3.6g | Protein: 7.3g | Calories: 177

Submitted by EMMABE1

Carbs: 16.6g | Fat: 7.2g | Fiber: 2g | Protein: 6.4g | Calories: 160.3

Submitted by EMMABE1

Carbs: 15.3g | Fat: 1.7g | Fiber: 2.3g | Protein: 7.2g | Calories: 111.4

Submitted by EMMABE1

Carbs: 12.6g | Fat: 8g | Fiber: 2.4g | Protein: 7g | Calories: 155.1

Submitted by EMMABE1

Carbs: 13.5g | Fat: 5g | Fiber: 2g | Protein: 3.3g | Calories: 114.9

Submitted by EMMABE1

Carbs: 1.7g | Fat: 3.4g | Fiber: 1.1g | Protein: 2.4g | Calories: 64.1

Submitted by EMMABE1

Carbs: 16.6g | Fat: 3.9g | Fiber: 2.6g | Protein: 3.5g | Calories: 118.3

The idea for this comes from an article in Daily Spark in June 2011 by Stepfanie Romine - What Can You Do with Chia Seeds? Plenty! - which can be found at
http://www.dailyspark.com/blog.asp?post=what_can_you_do_with_chia_seeds_plenty

Submitted by EMMABE1

Carbs: 35.6g | Fat: 3.3g | Fiber: 8.9g | Protein: 2.1g | Calories: 165.3

I measure out the chia seed then run it through a small processor before using - but this isn't necessary - in fact its hard to tell if its ground as the seeds are so small to start.

Submitted by EMMABE1

Carbs: 2.3g | Fat: 0.6g | Fiber: 1g | Protein: 0.5g | Calories: 14

Submitted by EMMABE1

Carbs: 3.2g | Fat: 0.3g | Fiber: 0.3g | Protein: 0.3g | Calories: 16.6

From 1GR8FULGAL who got it from www.chocolatecoveredkatie.com

This recipe originally used stevia as the sweetener - I tried both stevia and Splenda Granular - I didn't like the taste of either - then I tried brown sugar - and to me the taste far outweighs the 2 cal extra per serve.

Submitted by EMMABE1

Carbs: 8.6g | Fat: 2.7g | Fiber: 1.5g | Protein: 2.5g | Calories: 65.8

There were 18 of these - until my DH saw them!!

Submitted by EMMABE1

Carbs: 19.3g | Fat: 3g | Fiber: 1.1g | Protein: 3.8g | Calories: 126.7

Submitted by EMMABE1

Carbs: 20.7g | Fat: 15g | Fiber: 1.8g | Protein: 4.2g | Calories: 232.9

1GR8FULGAL got this from her other site: (the 'I' below was the author of the post, not me!)
Okay guys, I have many requests for this one from you! I totally have to get the credit to Jamie Eason on this one though. All I really did, was take her Carrot Cake Protein Bars recipe, and sub some ingredients to make it into pumpkin bars and accomodate what I had in the fridge :)


Submitted by EMMABE1

Carbs: 17.9g | Fat: 0.6g | Fiber: 1.4g | Protein: 5.2g | Calories: 98.4

This is a recipe I remember my mother cooking for a snack for me when I got home from school - I must have been 10yrs old when I first remember having them!!
I hope that you enjoy the recipe as much as I did!!
They were rolled in sugar after cooking in the original recipe, however I tried rolling them in ground almonds but it wouldn't stick and they really don't need anything.

Submitted by EMMABE1

Carbs: 17.2g | Fat: 4g | Fiber: 1g | Protein: 1.7g | Calories: 112.1

Nestle
http://www.recipes.com.au/Recipe/Double-Chocolate-Cream-Cheese-Muffins.aspx

Submitted by EMMABE1

Carbs: 32.1g | Fat: 9.5g | Fiber: 3.2g | Protein: 6.2g | Calories: 244.5

Submitted by EMMABE1

Carbs: 27.9g | Fat: 4.2g | Fiber: 1.7g | Protein: 2.7g | Calories: 165.5

Submitted by EMMABE1

Carbs: 37.7g | Fat: 1.7g | Fiber: 2.7g | Protein: 5.5g | Calories: 197.1