Gotta Try It Snacks

(Recipe Collection)
15 Recipes Created by CRAFTYC
Recipes in this Collection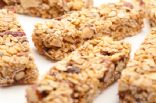 Homemade Fruit & Nut Granola Bars
Better than store-bought, these granola bars include healthy almonds, whole grain, natural sweeteners and a touch of fruit. Submitted by BRYNWRITES4FOOD
Carbs: 24.3g | Fat: 6.2g | Fiber: 3g | Protein: 4.4g | Calories: 160.7

This recipe has been marked private.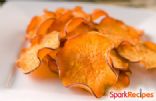 Spicy Sweet Potato Chips
You'll never believe these sweet and crunchy chips were made in the microwave. They'll become your new favorite savory snack. Submitted by CHEF_MEG
Carbs: 7.9g | Fat: 0.1g | Fiber: 1g | Protein: 0.5g | Calories: 34.4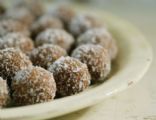 Energy Balls
Provide quick energy whenever you're running out of steam, or after a hard workout when you need a quick fix for your blood sugar. They are NOT low-cal, they are intended as a snack to tend you over when you don't have time to prepare something. Full of fiber and healthy fats they do the trick.Submitted by BINEMELLES
Carbs: 5.3g | Fat: 3.1g | Fiber: 0.9g | Protein: 1.4g | Calories: 50.7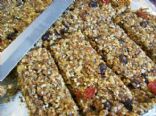 Goodness Gracious Granola Bars
These chewy, super-nutritious and gluten free granola bars are adapted from Vintage Mixer, who adopted it from Alton Brown: http://vintagemixer.blogspot.com/2010/02/dried-fruit-and-nut-granola-bars.htmlSubmitted by JO_JO_BA
Carbs: 43.2g | Fat: 13.5g | Fiber: 7.8g | Protein: 9.1g | Calories: 306.7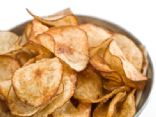 Microwave Herb Potato Chips
When you're craving something crunchy but don't want the added fat, whip up a batch of these chips. You will not need any special equipment for this recipe, just a couple of brown paper bags.

Carbs: 16.1g | Fat: 0.1g | Fiber: 2g | Protein: 1.9g | Calories: 71.6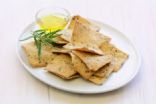 Crackers - Wheat / Gluten / Yeast Free
Wonderfully delicious and simple to make cracker. Play with different flour / spice combinations besides the suggested ones. Submitted by DEECAFFEINATED
Carbs: 30.2g | Fat: 3.3g | Fiber: 1.8g | Protein: 2.9g | Calories: 163.3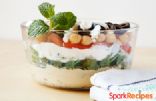 Layered Greek Dip
I combined all my favorite Greek ingredients, layered them in a dish and created a dip that's a hit at parties or family game night. Submitted by CHEF_MEG
Carbs: 9.1g | Fat: 6.7g | Fiber: 1.2g | Protein: 3.3g | Calories: 103.2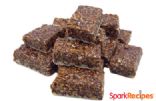 No-Bake Chocolate Peanut Butter Protein Bars
These grab-and-go bars could not be simpler to make! At over 15 grams of protein per bar, they would make a great breakfast or post-workout snack.Submitted by CTCLOUGH
Carbs: 12.8g | Fat: 11.1g | Fiber: 2g | Protein: 15.5g | Calories: 221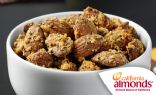 Parmesan Herb Almonds
Almonds make a great savory snack. This dish is perfect for a party. Submitted by ALMOND_BOARD
Carbs: 7g | Fat: 17g | Fiber: 3g | Protein: 10g | Calories: 214
Carrot Cake Breakfast Cookies
At just 150 calories each, these carrot cake cookies are wholesome enough to eat for breakfast. We like them with a tall glass of milk.Submitted by CAITLIN_L
Carbs: 17.1g | Fat: 6.6g | Fiber: 1.6g | Protein: 6.4g | Calories: 150.1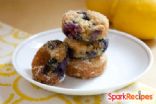 Light Lemon Blueberry Donuts
At 300 calories a pop, donuts are an easy way to wreck a healthy breakfast. Not my baked ones. They're bursting with fruit and flavor--not fat!Submitted by CHEF_MEG
Carbs: 21g | Fat: 1.9g | Fiber: 2.2g | Protein: 2.4g | Calories: 104.9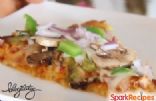 Healthy Veggie Pizza on Flourless Cauliflower Crust
When you're trying to cut calories, pizza seems like a treat you will never enjoy again. But with this cauliflower crust version, you can have pizza anytime you want!Submitted by BLOGILATES
Carbs: 3.5g | Fat: 3.1g | Fiber: 1g | Protein: 4.3g | Calories: 60
Send this recipe collection to a friend - http://recipes.sparkpeople.com/cookbooks.asp?cookbook=554357