Italian Tuna salad
3 oz can chunk light tuna, drained, with 1/4 c chopped red onion, 2 Tbsp capers, 2 Tbsp lemon juice, and 1 Tbsp olive oil mixed together. place on a bed of your favorite lettuce and your ready to go.

(1 Recipe) Created by ACECARTER
Recipes in this Collection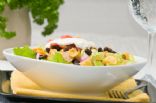 Good 3.9/5
This is a healthier spin on taco salad but you will still enjoy the great taste.
Submitted by KTDID525
Carbs: 25.9g | Fat: 10.5g | Fiber: 7.2g | Protein: 25.3g | Calories: 293.1