Who Needs China Hut?!
(1 Recipe) Created by PLUMPPLUM
Recipes in this Collection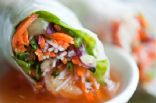 Very Good 4.3/5
This recipe is really easy; it's really more of a process than a recipe. Rice paper wrappers, which are available in the ethnic sections of most larger supermarkets these days, are a great way to wrap your veggies and protein for a quick snack or light lunch.


Submitted by CHEF_MEG
Carbs: 9.7g | Fat: 4.2g | Fiber: 2g | Protein: 9g | Calories: 113.1