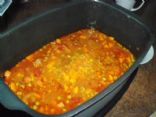 Keema
I used 1/2 lb. of 80/20 ground beef, a clove of garlic,p enzey's spice blend instead of curry & 1 cup of hot water. Put in crock pot and cooked on high. I did not brown ground beef first, however.
(1 Recipe) Created by ROBINSONCA2
Recipes in this Collection
Very Good 4.1/5
Cookbook creator says: 4 servings
232 cals
11 fat
4 fiber
5 pts.
Submitted by QUILTBUGJ
Carbs: 12g | Fat: 7g | Fiber: 2.7g | Protein: 22.5g | Calories: 199.2