Rob's #1 CookBook

(Recipe Collection)
14 Recipes Created by ROBTAYLOR00
Recipes in this Collection
This recipe has been marked private.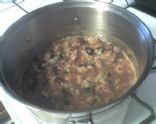 Easy Turkey Chili
Done in less than 30 minutes and super healthySubmitted by TAMIRN2000
Carbs: 33.3g | Fat: 9.3g | Fiber: 10.7g | Protein: 25.4g | Calories: 312.3
Vegetarian Curried "Chicken" Salad
This is a vegetarian version of a delicious recipe that I loved in the UK: curried chicken salad on toast. Make it vegan by substituting the mayo for nayonaise brand or another vegan mayo. Loads of protein and fiber, and you'll be getting fruit and veggies on this sandwich at the same time.Submitted by BRRRANDI78
Carbs: 30.5g | Fat: 5.5g | Fiber: 4.5g | Protein: 11.4g | Calories: 208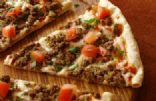 Spicy Taco Pizza
If your family enjoys tacos, then why not top a pizza with the same delicious combination? Easy & delicious!Submitted by JST4GVN
Carbs: 13.9g | Fat: 7.7g | Fiber: 0.6g | Protein: 14.7g | Calories: 189.6
This recipe has been marked private.

Curry Turkey, Improvised
A delicious and spicy addition to my repertoire of how to cook chicken or turkey breasts. Nutritional facts based on turkey, but works equally well with chicken. Submitted by GRADXY
Carbs: 19.7g | Fat: 7.6g | Fiber: 2g | Protein: 24.2g | Calories: 244.8
This recipe has been marked private.

This recipe has been marked private.

"Creamy" Red Thai Curry Tilapia
the creamy texture comes from the canned yams. No dairy involved, but your taste buds will never know.Submitted by JOYELYSE
Carbs: 22.1g | Fat: 2.9g | Fiber: 1g | Protein: 23.9g | Calories: 197.6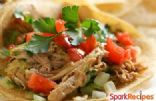 Slow-Cooker Salsa Chicken
Enjoy this healthy and easy-to-make slow cooker salsa chicken recipe.
Carbs: 6.7g | Fat: 6.8g | Fiber: 0.9g | Protein: 26.3g | Calories: 197.2
Send this recipe collection to a friend - http://recipes.sparkpeople.com/cookbooks.asp?cookbook=60902