BREAKFAST!
(1 Recipe) Created by ROXANNB7
Recipes in this Collection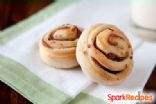 Very Good 4.1/5
Skip the drive-through and serve these instead. Split one open, pop in an egg cooked your way and even some shredded cheese. Make a batch on the weekend and keep handy for hungry teenage boys (and their parents)!
Submitted by CHEF_MEG
Carbs: 24.1g | Fat: 2.8g | Fiber: 1g | Protein: 5g | Calories: 137.8