Quick and Easy :)

(Recipe Collection)
15 Recipes Created by LASVEGAS2013
We all have crazy schedules so eating healthy can be hard. Here are some recipes I found on spark people that are not only good but good for me. PLUS super easy to make.
Recipes in this Collection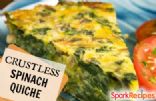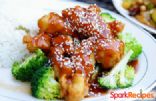 Sesame Chicken
Cookbook creator says: Who says I can't have chinese food :)Submitted by PISCESWOMAN87
Carbs: 7g | Fat: 17.6g | Fiber: 1.2g | Protein: 28.2g | Calories: 299.8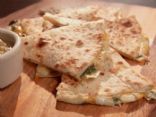 Cheese quesadilla
Cookbook creator says: Great for a lunchtime treat.Submitted by CINDYSUE48
Carbs: 18.8g | Fat: 14.2g | Fiber: 8.5g | Protein: 23g | Calories: 298.2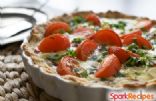 Low-Carb Crustless Quiche
This protein-packed quiche makes for a great breakfast or light lunch.Submitted by CHESSMANS2000
Carbs: 4.5g | Fat: 1.4g | Fiber: 0.4g | Protein: 18.7g | Calories: 106.8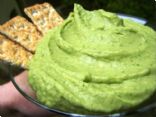 Fantastic Hummus Guacamole Dip
This "Spinach & Avocado Cannellini Bean Hummus" is what would happen if hummus and guacamole mated! Submitted by FANNETASTICFOOD
Carbs: 20.2g | Fat: 5.7g | Fiber: 5.1g | Protein: 6.3g | Calories: 150.4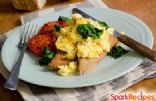 Feta & Spinach Scramble
Celebrate spinach season with this lean and green scramble. Salty feta and velvety eggs combine beautifully with wilted spinach for a filling breakfast that's high in protein.Submitted by HOPEIGETIT2
Carbs: 13g | Fat: 8.7g | Fiber: 2.8g | Protein: 18.4g | Calories: 200.3
Chicken Fajitas
Delicious, healthy and fillingSubmitted by MOMOF2NJ
Carbs: 16.5g | Fat: 16.5g | Fiber: 3.6g | Protein: 16.6g | Calories: 277.7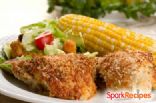 Crispy Faux-Fried Mexican Chicken
I love faux frying foods using panko. This crunchy, spicy chicken would be great on a taco salad. Submitted by CHEF_MEG
Carbs: 19.5g | Fat: 3.8g | Fiber: 3.2g | Protein: 29.7g | Calories: 221.8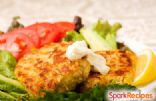 Chicken Croquettes
A quick, easy and healthy meal in minutes!Submitted by DEFREYTAG
Carbs: 3.3g | Fat: 8.8g | Fiber: 0.2g | Protein: 24.4g | Calories: 195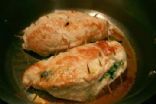 This recipe has been marked private.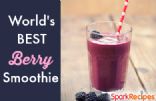 5-Minute Berry Smoothie
A quick and delicious smoothie to satisfy that sweet tooth in a healthy way! Submitted by RAEBRALOP
Carbs: 25.7g | Fat: 1.3g | Fiber: 2.3g | Protein: 5.3g | Calories: 130.3
Send this recipe collection to a friend - http://recipes.sparkpeople.com/cookbooks.asp?cookbook=625159