Artemis Delves into Piscevorian Eats
Seafood in one form or another. Nothing bruised nor battered here, though.
(1 Recipe) Created by ARTEMISTHEGREEK
Recipes in this Collection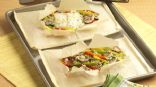 Very Good 4.5/5
Cookbook creator says: Chef Meg uses sole, like flounder, is too bland for words. I'd use tilapia or ocean perch or perhaps sea bass, instead. They are still white fishes, but with personality. I'd also add freshly cracked black pepper. The concept is great! Caradawn has truly excellent suggestions under comments.
Submitted by CHEF_MEG
Carbs: 16.6g | Fat: 1.5g | Fiber: 4.8g | Protein: 23.4g | Calories: 158.4