Antonette's and Friends Recipes

(Recipe Collection)
9 Recipes Created by IMNOTSTOPPIN
Recipes in this Collection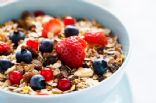 Maple Almond Granola
Granola is incredibly affordable when you make it yourself. This recipe combines some of my favorite ingredients: maple syrup, almond butter and seeds!Submitted by STEPFANIER
Carbs: 23.1g | Fat: 11g | Fiber: 3.9g | Protein: 4g | Calories: 198.9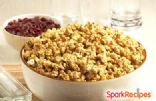 Skinny Caramel Popcorn
This lightened-up version of caramel popcorn is our favorite tailgate treat. Submitted by CHEF_MEG
Carbs: 27.7g | Fat: 2.8g | Fiber: 0.8g | Protein: 0.7g | Calories: 116.7
Sensible Kettle Corn
A sweet treat for 2! Or make it for yourself and put half ina ziplock bag for later :)Submitted by CATHERINEKERTH
Carbs: 19.3g | Fat: 7.2g | Fiber: 3.5g | Protein: 2g | Calories: 139.1
This recipe has been marked private.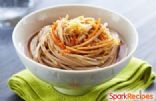 Whole Wheat Pasta with Sesame Peanut Sauce
This Asian-inspired pasta dish is so good and so quick to make and can be served hot or cold. Add some tofu for another healthy option.Submitted by BCJL13
Carbs: 39.5g | Fat: 5.9g | Fiber: 7g | Protein: 9.4g | Calories: 239.9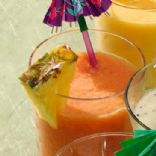 Fresh Hawaiian Smoothie
Cool, refreshing, and great for you!
Carbs: 32.9g | Fat: 0.6g | Fiber: 3.1g | Protein: 1.4g | Calories: 133.6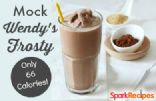 Mock Wendy's Frosty
Delicious, low-cal drink I found on a forum for moments when you want chocolate. I will be drinking this even after I reach my goal. It is that good.Submitted by SERMAGRA
Carbs: 14.3g | Fat: 0.4g | Fiber: 0.7g | Protein: 5.1g | Calories: 65.6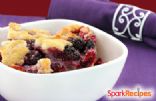 Easy Berry Cobbler
This lightened up version of berry cobbler has just three ingredients. Submitted by LYSAX13
Carbs: 43.1g | Fat: 4g | Fiber: 2g | Protein: 2.7g | Calories: 217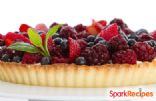 Fruit Pizza
This quick and easy fruit pizza makes a delicious, refreshing dessert and a colorful centerpiece. Try it at your next special occasion
Carbs: 35.5g | Fat: 12g | Fiber: 2.7g | Protein: 2.6g | Calories: 256.7
Send this recipe collection to a friend - http://recipes.sparkpeople.com/cookbooks.asp?cookbook=635720