Recipes in this Collection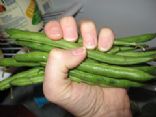 Very Good 4.3/5
The trick to learning to like vegetables you hate is to disguise their appearance and flavor. Think about what it is you dislike about that particular vegetable.
I asked Fred why he's anti-green beans. It turns out that he remembers the long, mushy canned beans from childhood.
Step 1: Chop the beans into 1-inch pieces.
Step 2: Change texture. Sauté them in a bit of olive oil, salt and pepper on high heat until they're crispy on the outside and still slightly firm.
Step 3: Change the flavor: Add pesto (with homemade lemony basil from the co-op) and an extra bit of parmesan cheese!
Results: "Is this pasta?" Fred asks as I hand him a plate of beans.
Submitted by SP_STEPF
Carbs: 4.6g | Fat: 5.8g | Fiber: 2g | Protein: 2.5g | Calories: 76.3