Dave's recipe's to try!

(Recipe Collection)
12 Recipes Created by 1RETSGM
Recipes in this Collection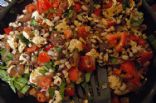 Dell's Hopping John
Cookbook creator says: Change white rice to brown & add flaxseed!Submitted by PUNKIN7743
Carbs: 21.6g | Fat: 3.2g | Fiber: 4.2g | Protein: 2.9g | Calories: 144.2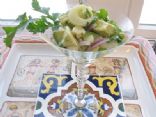 Love Salad (Artichoke & Palm Hearts)
I made this recipe many times and always make it for my valentines day dinner because it's made with hearts - so I nick-named it 'Love Salad'. :) And my man falls in love with me everythime I make this.

Make sure you rinse all the ingredients and you will knock off over half the sodium content (nutritional values shown with ingredients not rinsed).

I've been making this with avocados since it was suggested by another member. Even better!

If you serve in martini glasses (as shown), you'll get 6 small servings.Submitted by FRENCHPRINCESSE
Carbs: 13.7g | Fat: 18.4g | Fiber: 6.3g | Protein: 3.5g | Calories: 217.5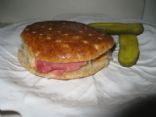 Un-Chained Recipe Contest Rueben Sandwich
Arby's Market Fresh Rueben Sandwich, one of my favorites to re-create saving you a whopping 340 calories, 18 grams fat and 29 grams of carbohydrates. If you can find a leaner cut of corned beef, it will make this re-creation even healthier!Submitted by TMARIE40
Carbs: 36.5g | Fat: 13.6g | Fiber: 5.9g | Protein: 23.3g | Calories: 351.7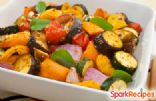 Italian Vegetable Bake
This colorful low-sodium cholesterol-free vegetable baked dish is prepared without any added fat.
Carbs: 8.6g | Fat: 0.2g | Fiber: 2.6g | Protein: 1.8g | Calories: 37.2
Pumpkin Oatmeal Pancakes
Packed with protein AND good for your heart! :) I found this recipe a long time ago, but do not remember where, so I can't give proper credit...Submitted by H3DAKOTA
Carbs: 22.2g | Fat: 2.3g | Fiber: 3.3g | Protein: 13.8g | Calories: 157.2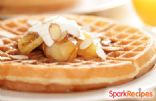 Coach Nicole's Pumpkin & Apple Waffles
These seasonal waffles are easy to make and are packed with protein and fiber. The perfect fall or winter breakfast!Submitted by COACH_NICOLE
Carbs: 48.5g | Fat: 4g | Fiber: 7.5g | Protein: 9.6g | Calories: 251.4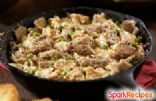 Slimmer Beef Stroganoff
Ready in 25 minutes.
Carbs: 42.4g | Fat: 24.1g | Fiber: 1.1g | Protein: 30.9g | Calories: 514.5
15 Minute Black Bean and Corn Salsa
This corn and black bean salsa is the perfect dish for potlucks when you want to have something healthy on the table.Submitted by CHIQUITA72979
Carbs: 10.4g | Fat: 0.3g | Fiber: 2.2g | Protein: 2.3g | Calories: 46.9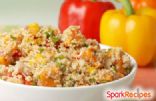 Simple Quinoa and Vegetables
This protein-rich vegetarian recipe is simple to make and tasty to eat! Submitted by CHEF_MEG
Carbs: 38.4g | Fat: 13.1g | Fiber: 5.4g | Protein: 7.4g | Calories: 294.9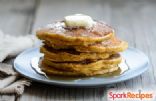 This recipe has been marked private.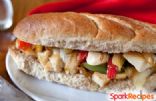 Skinny Chicken Philly Cheese Sub
Warm meat, gooey cheese, and grilled vegetables--what's not to love about a Philly cheese steak? How about the more than 1,600 calories in each one! This take on the classic skimps on fat but not flavor.
Submitted by CHEF_MEG
Carbs: 41.2g | Fat: 10.2g | Fiber: 4.6g | Protein: 34.4g | Calories: 409
Send this recipe collection to a friend - http://recipes.sparkpeople.com/cookbooks.asp?cookbook=665764