My first fit recipes
This is my introduction to healthy cooking.
(1 Recipe) Created by CATICO68
Recipes in this Collection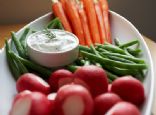 Very Good 4.3/5
Use this to dress your salad or as a dipping sauce for cut vegetables. Don't like cilantro? No problem, just swap it out for Italian parsley or dill.

Submitted by CHEF_MEG
Carbs: 1.1g | Fat: 0g | Fiber: 0.1g | Protein: 1.3g | Calories: 8.8