internet based healthy recipies...
This recipie box will be used to collect recipies from all over for healthy recipies...
(1 Recipe) Created by KIMBOBBY84
Recipes in this Collection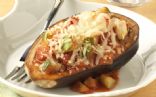 Very Good 4.3/5
This recipe is part of "The SparkPeople Cookbook." Order your copy today! This was an excellent member-submitted recipe that required very few tweaks to improve its healthy profile.
Submitted by CHEF_MEG
Carbs: 24.4g | Fat: 9.8g | Fiber: 8.3g | Protein: 9.6g | Calories: 208.8