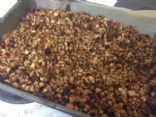 Bels Clean Granola & Muselli Bars
After looking through many recipes, i couldnt quite find a healthy & Clean Granola recipe that suited what i wanted. So decided to give it a go and make up my own recipe, and turned out Quite DELISH! :) enjoy...
(0 Recipes) Created by BELLABEE1986
Recipes in this Collection
This collection has no recipes.