Bruce's low cal and low fat recipes

(Recipe Collection)
14 Recipes Created by BRUVER
Recipes in this Collection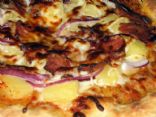 Hawaiian Pizza: 'SparkRecipes Un-Chained' Contest Finalist
Pizza is one of my favorite foods, and the sweet sauce at Papa John's is my all-time favorite. My viewpoint is, if you're going to make it at home, don't make it "just as good," make it better! So I'm remaking a medium Papa John's pie with pineapple, onion and bacon(BACON!!!). Fresh homemade sauce and premium ingredients make this recipe more than worth the calories, and still trimmer than the fast food original!Submitted by KRAMTHEGRAM
Carbs: 31.1g | Fat: 5.5g | Fiber: 0.9g | Protein: 8.3g | Calories: 200.3
This recipe has been marked private.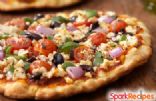 This recipe has been marked private.

Vegetarian Enchiladas
You can easily reduced the fat and calories in this recipe by using fat free cream cheese and reduced fat shredded cheese. This was a big hit in my family of meat eaters.Submitted by AKMCGILL77
Carbs: 22.5g | Fat: 21.9g | Fiber: 10.5g | Protein: 15.2g | Calories: 337.9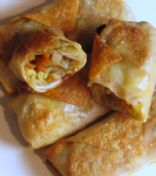 Baked Vegetable Egg Rolls
From "For the love of cooking"
http://fortheloveofcooking-recipes.blogspot.com/2009/04/baked-vegetable-egg-rolls.htmlSubmitted by CBWALLES1
Carbs: 20.3g | Fat: 0.4g | Fiber: 2.2g | Protein: 4g | Calories: 102.6
Big A** Veggie Burrito from the "Skinny Bitch in the Kitch"
This is a veggie/vegan burrito. The original recipe called for using a whole pound of vegan cheese, but i cut that in half. if you use more than 1/4 cup of cheese on each burrito, then you will need to adjust for the calories. With using the whole pound of cheese, each burrito would be about 601 calories.Submitted by SANDRAMONROE
Carbs: 73.7g | Fat: 11g | Fiber: 21.8g | Protein: 29.6g | Calories: 475.2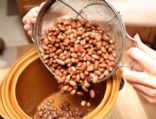 Best Vegan Mexican Pinto Beans Ever ( Slow Cooker)
A flavor powerhouse of protien!! Cooked with no meat or meat by products. Easy to prepare by putting it all in a crock pot.

Serve with whole wheat tortillas and a home made Pico De Gallo and it is a surefire hit for the whole family.

Also the left overs are really good to mash up the next day with some lime juice and serve with tortilla chips! Submitted by MRICHTER2004
Carbs: 4.5g | Fat: 2.4g | Fiber: 0.6g | Protein: 1g | Calories: 40.4
Send this recipe collection to a friend - http://recipes.sparkpeople.com/cookbooks.asp?cookbook=695580