Spices and special seasonings!
(1 Recipe) Created by SWEETEATER6
Recipes in this Collection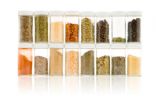 Very Good 4.4/5
Forget buying packets of seasonings. They're expensive and often full of salt. Save sodium and money by making this easy herb blend. Use it in sauces, soups, stews, on meats... anywhere you want to add Italian flavor without fat or sodium!
Submitted by CHEF_MEG
Carbs: 0.7g | Fat: 0.1g | Fiber: 0.5g | Protein: 0.1g | Calories: 3.9