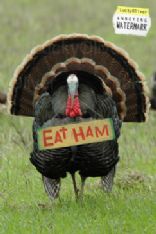 Joy of Turkey Cookbook
For those who love turkey and for those who bought cheap turkey the day after thanksgiving. (my husband bought five 20 pound turkeys for 49 cents a pound!)

I will be adding recipes I try over the next few months as we enjoy our 100 pounds of turkey. Yikes!
(5 Recipes) Created by POSITIVELYJOY
Recipes in this Collection
Cookbook creator says: This is not exactly a recipe, but provides the instructions for processing that big bird once dinner is over.

Submitted by POSITIVELYJOY

Carbs: 1.9g | Fat: 2.6g | Fiber: 0g | Protein: 11.1g | Calories: 77.8

Yummy breakfast or brunch dish to spice up your morning. Even makes a great dinner dish. Serve with fresh fruit.

Submitted by POSITIVELYJOY

Carbs: 5g | Fat: 15.4g | Fiber: 0.6g | Protein: 22.5g | Calories: 248.2

I use the shredded meat I get from rendering the turkey carcass. Any part of turkey meat could be used, but this is a great use of the meat from the carcass since it will naturally be shredded when you remove it from the bone.

Submitted by POSITIVELYJOY

Carbs: 22.9g | Fat: 10.4g | Fiber: 1.5g | Protein: 25.9g | Calories: 289.8

Cookbook creator says: This recipe can be made in large batches and frozen in dinner portions to be reheated later. Good way to sock away left over turkey for the long winter. :-)

Submitted by POSITIVELYJOY

Carbs: 6.2g | Fat: 6.1g | Fiber: 0.7g | Protein: 11.6g | Calories: 127.8

Submitted by POSITIVELYJOY

Carbs: 36.7g | Fat: 14.2g | Fiber: 6.9g | Protein: 29.1g | Calories: 390.6