Beef, Pork, Lamb etc.
(1 Recipe) Created by CRANKYLADY2
Recipes in this Collection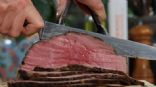 Very Good 4.4/5
Lean and versatile, this recipe is the little black dress of your healthy recipe arsenal. Cook this roast on a Sunday and enjoy it throughout the week. We used no salt, just pepper for a truly flavorful roast.


Submitted by CHEF_MEG
Carbs: 0.1g | Fat: 7.6g | Fiber: 0g | Protein: 28.7g | Calories: 191.2