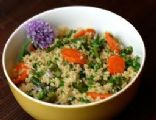 Grains and Sides
I simply can not say enough good things about Quinoa. It is definitely one of the ten top super foods, just ask any food guru. I am gaga over it. This is one of my favorite recipes to introduce my peeps to Quinoa, but there are endless ways to cook it up.
(0 Recipes) Created by BIZEBLONDE
Recipes in this Collection
This collection has no recipes.