Burgers!
For when you're craving a good burger!
(1 Recipe) Created by CRAZY_KAT_1984
Recipes in this Collection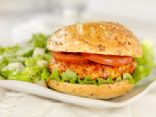 Very Good 4.1/5
Cookbook creator says: Ditch the BBQ rub and sauce and make these into meatballs. Add dried Italian spices and herbs, sear in a nonstick skillet, then simmer in tomato sauce.
Submitted by CHEF_MEG
Carbs: 28.5g | Fat: 4.2g | Fiber: 6.5g | Protein: 41g | Calories: 262.4