Preparing Clean Foods
Ever wonder how to boil an egg? Cook different kinds of rice? Make oatmeal that is "just right"? Make al dente Miracle noodles? This collection is for how to cook some of the staples of an eating clean diet.
(1 Recipe) Created by BELLENOIRE7
Recipes in this Collection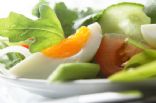 Very Good 4.1/5
Cookbook creator says: How to properly boil an egg!
Submitted by CHEF_MEG
Carbs: 0g | Fat: 5g | Fiber: 0g | Protein: 6.2g | Calories: 70