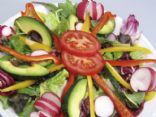 Super Salads
My collection of salad recipes that I try and rate.
(1 Recipe) Created by POSITIVELYJOY
Recipes in this Collection
Incredible! 5.0/5
Cookbook creator says: I am making this for a get-together with friends today. First time to try it. I will rate the recipe later and let you know how it turned out.
Submitted by SUNNYCEDAR
Carbs: 34.6g | Fat: 9.3g | Fiber: 1.9g | Protein: 8.2g | Calories: 252.7