Super Bowl Recipes!
(1 Recipe) Created by JUST_TERE
Recipes in this Collection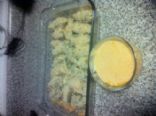 Very Good 4.3/5
A tasty variation on the traditional popper. My hubby likes these for superbowl sunday. You can also vary the recipe by adding 2 -4 T fat free sharp cheddar shreds to the cream cheese mixture. Also you can use panko crumbs for a crispier coating. Make these at least once before serving to company, as it takes a knack to get them to come out nice looking.
Submitted by KEEYAHWE
Carbs: 5g | Fat: 0.4g | Fiber: 0.6g | Protein: 3.2g | Calories: 36.6