Renee's Salads

(Recipe Collection)
16 Recipes Created by RRENEE11
Recipes in this Collection
Hot & Sweet Rainbow Slaw
Creamy cole slaw pairs well with fried chicken, but who needs all that mayo? This one uses Greek yogurt and a healthier mayo, plus a few other secret ingredients.


Submitted by SPARKSOLUTION
Carbs: 9g | Fat: 0.7g | Fiber: 2.1g | Protein: 1.6g | Calories: 45.7
This recipe has been marked private.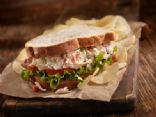 Guiltless Chicken Salad
We ditched the mayo from this sandwich staple and boosted the nutrition with crunchy vegetables.
Submitted by CHEF_MEG
Carbs: 7.8g | Fat: 3.2g | Fiber: 2.7g | Protein: 29g | Calories: 179.4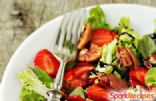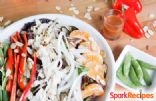 Asian Chicken Salad
This healthy, hearty salad is packed full of fruit AND vegetables.
Carbs: 17.5g | Fat: 7.4g | Fiber: 4g | Protein: 10.7g | Calories: 169.5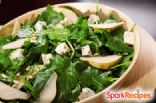 Spinach and Pear Salad with Dijon Vinaigrette
Tender spinach and sweet pears are drizzled with tangy vinaigrette, then topped with rich blue cheese and crisp red onion for a salad you'll love.
Carbs: 18.9g | Fat: 11.9g | Fiber: 3.7g | Protein: 8.2g | Calories: 205.1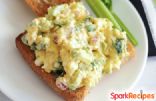 Tuna & Egg Salad
This salad may be used on a bed of lettuce or in a sandwich. Submitted by CAROLYN0107
Carbs: 1.1g | Fat: 4.2g | Fiber: 0g | Protein: 11.4g | Calories: 88.2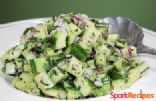 Crunchy Cucumber Salad
Depending on how small you chop the veggies, this light summer side can be a salad or salsa. Pair the salad with grilled chicken or shrimp. As a dip, opt for endive, jicama slices, or lime tortilla chips. Submitted by CHEF_MEG
Carbs: 4.2g | Fat: 2.4g | Fiber: 1.3g | Protein: 0.9g | Calories: 43.8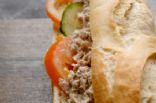 Tangy Tuna Salad Sandwich
I love a good sandwich, one that's so big you have to smash to fit into your mouth. This one is big on flavor, light on fat!Submitted by CHEF_MEG
Carbs: 32.2g | Fat: 8.8g | Fiber: 4.9g | Protein: 15.5g | Calories: 260.3
The BEST Tuna Salad
This flavorful tuna salad is made with cottage cheese and yogurt, not mayo.Submitted by GORGEOUS26
Carbs: 11.7g | Fat: 2.2g | Fiber: 0.6g | Protein: 32.5g | Calories: 190.3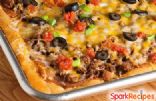 Crescent Roll Taco Pizza
Whether served as a main dish or in bite-size slices, this simple, tasty pizza is perfect for your next party. Submitted by SHASHEE71
Carbs: 16.6g | Fat: 7.8g | Fiber: 2.1g | Protein: 15.1g | Calories: 193.1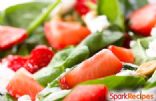 Strawberry Spinach Salad
Crisp spinach, crunchy almonds and juicy strawberries are a perfect combination in this healthy salad. Top it with grilled chicken for extra protein.Submitted by MDSHEPARD
Carbs: 10.8g | Fat: 2.8g | Fiber: 1.5g | Protein: 1.4g | Calories: 68.4
Send this recipe collection to a friend - http://recipes.sparkpeople.com/cookbooks.asp?cookbook=824297