Tasty things!
(1 Recipe) Created by YEHSUNG
Recipes in this Collection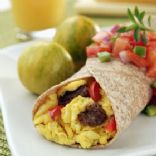 Good 3.7/5
This is one hearty portion serving for those of you like me out there who like to have a big breakfast to start my day off right and leave me filled with energy most of the day. Not to mention it is DELICIOUS!!!!!
Submitted by JANNERS1980
Carbs: 17g | Fat: 4.8g | Fiber: 3.2g | Protein: 13.1g | Calories: 150.2