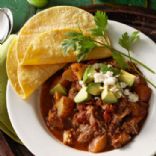 Adam's Tinga Poblana
YUMMY! This is an awesome meal to have anytime during the weak and can be eaten for lunch or dinner, and even breakfast if you want you can add you own style of eggs to the mix!


(0 Recipes) Created by AMAN11387
Recipes in this Collection
This collection has no recipes.