Eat Right, Live Right

(Recipe Collection)
8 Recipes Created by 2BFITFORLIFE1
I do believe that you are what you eat. And how you exercise and how you interact with the environment. Get outside! Move! Eat fresh food when you can and eat local. You'll be fit and strong before you know it. And feeling great!
Recipes in this Collection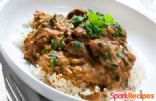 Easy Slow Cooker Beef and Mushrooms
Cookbook creator says: definitely enjoyed this- pumped up the spices to add more zing. Like I can leave a recipe alone!Submitted by -AMANDA79-
Carbs: 12.4g | Fat: 6g | Fiber: 1.7g | Protein: 26.9g | Calories: 214
Mexican Crock Pot Chicken
A tasty, spicy meal with only 10 minutes of prep time!Submitted by REGNETS03
Carbs: 27.5g | Fat: 4.2g | Fiber: 7.1g | Protein: 24.7g | Calories: 247.9
This recipe has been marked private.

This recipe has been marked private.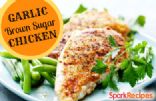 Garlic Brown Sugar Chicken
Cookbook creator says: I need to up the amount of chicken in this recipe w/2 teenage boys- 3 ozs. won't keep them full. so I double everything- and brown rice and broccoli steamed. great meal.Submitted by ALECSANDRA
Carbs: 4.3g | Fat: 8g | Fiber: 0g | Protein: 19.4g | Calories: 166.4
Super Juicy Grain & Seed Turkey Burgers
These burgers don't shrink in the oven -- instead, they seem to inflate! They get very big and juicy, probably because of the egg whites being absorbed by the added grains. They are amazing. You could easily break the mix up into a larger number of servings (6-8) and feel very satisfied by just one burger. (The added grains and flax seed also make them very filling.)Submitted by NEWMOMOVER40
Carbs: 8g | Fat: 6.4g | Fiber: 1.3g | Protein: 18g | Calories: 156.5
Send this recipe collection to a friend - http://recipes.sparkpeople.com/cookbooks.asp?cookbook=87119