sides

(Recipe Collection)
4 Recipes Created by KURNJENNC25
Recipes in this Collection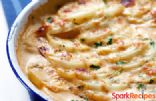 Low Cholesterol Scalloped Potatoes
A low-fat, heart healthy version of this traditional comfort food.
Carbs: 11.2g | Fat: 5.9g | Fiber: 2.2g | Protein: 4.2g | Calories: 111.3
Easy Zucchini Parmesan
This quick and healthy side dish takes just minutes to prepare! And as a bonus, it's an easy way to get the kids to eat their vegetables.Submitted by MATCM81
Carbs: 7.3g | Fat: 1.6g | Fiber: 2.5g | Protein: 3.2g | Calories: 51.6
This recipe has been marked private.

Send this recipe collection to a friend - http://recipes.sparkpeople.com/cookbooks.asp?cookbook=913892