Beef

(Recipe Collection)
16 Recipes Created by ENGLISHGIRL
Recipes in this Collection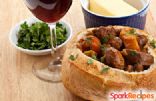 Guinness Beef & Bacon Stew
Inspired by a trip to Elephant and Castle Pub in Chicago, this is a great home-cooked meal to warm you up and share with friends.Submitted by NORJUNMA1
Carbs: 41.8g | Fat: 14.1g | Fiber: 4.5g | Protein: 30.7g | Calories: 440.5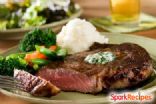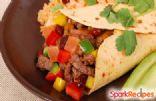 Creamy Beef and Pepper Burritos
My boys love this overstuffed burrito--and they need both hands to eat it. Beefy and packed with veggies, it's a quick weeknight dinnerSubmitted by CHEF_MEG
Carbs: 39.4g | Fat: 16.5g | Fiber: 7.3g | Protein: 27.1g | Calories: 414.3
Grilled Garlic Citrus Flank Steak
There is room for red meat in a healthy lifestyle. The key is choosing lean cuts and healthful cooking methods.

Submitted by CHEF_MEG
Carbs: 4.2g | Fat: 13.1g | Fiber: 0.4g | Protein: 23.5g | Calories: 231.4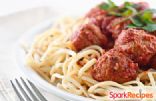 Slow Cooker Meatballs
These aren't your mama's meatballs--they're better! Lean but packed with flavor, they cook all day while you're away. Submitted by CHEF_MEG
Carbs: 27g | Fat: 11.1g | Fiber: 4g | Protein: 41.2g | Calories: 370.4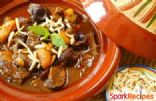 Slow Cooker Moroccan Beef Stew
Chef Meg turned a member-submitted dish into a slow cooker meal that's easy yet exotic!Submitted by CHEF_MEG
Carbs: 27.7g | Fat: 11.2g | Fiber: 5.7g | Protein: 38.8g | Calories: 370.3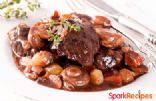 Braised Beef Short Ribs
The ultimate Sunday supper. This rich dish is worth every minute of cooking time!Submitted by BETHANNE24
Carbs: 7.7g | Fat: 18.6g | Fiber: 0.8g | Protein: 22g | Calories: 339.9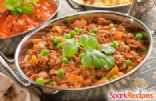 Slow Cooker Meatloaf
This meatloaf has the best of both worlds: a great crust and a moist interior! The trick is lining your slow cooker and creating a water bath. Trust me, it's worth the effort!
Submitted by CHEF_MEG
Carbs: 17.3g | Fat: 6.4g | Fiber: 1.3g | Protein: 27.1g | Calories: 234.2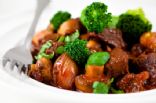 Better Beef and Broccoli
This recipe is better (and much better for you) than takeout!Submitted by TAM101
Carbs: 66g | Fat: 5.2g | Fiber: 3.8g | Protein: 35g | Calories: 452.6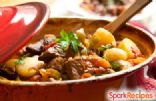 Hearty Beef & Vegetable Stew
A heart-healthy one-dish meal made with lean top round beef, lots of vegetables, and an aromatic herb mixture.
Carbs: 20.6g | Fat: 13.9g | Fiber: 5.7g | Protein: 43.7g | Calories: 384.7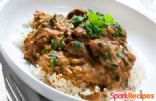 mexican casserole
mexican casserole with corn breadSubmitted by IWANNABALOSER
Carbs: 21.1g | Fat: 11.9g | Fiber: 5.4g | Protein: 17.5g | Calories: 285.1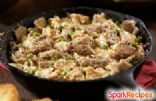 Slimmer Beef Stroganoff
Ready in 25 minutes.
Carbs: 42.4g | Fat: 24.1g | Fiber: 1.1g | Protein: 30.9g | Calories: 514.5
This recipe has been marked private.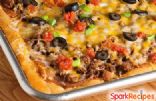 Crescent Roll Taco Pizza
Whether served as a main dish or in bite-size slices, this simple, tasty pizza is perfect for your next party. Submitted by SHASHEE71
Carbs: 16.6g | Fat: 7.8g | Fiber: 2.1g | Protein: 15.1g | Calories: 193.1
Send this recipe collection to a friend - http://recipes.sparkpeople.com/cookbooks.asp?cookbook=931467