Lunch

(Recipe Collection)
13 Recipes Created by ATHENA1976
Recipes in this Collection
Gourmet Chicken Salad
Made with curry, walnuts, dried fruit and fresh fruit. It's a healthier version of Arby's chicken salad!Submitted by HOLLYANA
Carbs: 19.9g | Fat: 17.5g | Fiber: 1.8g | Protein: 27.3g | Calories: 347.8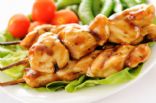 Chicken Satay with Vegetables
Chef Meg lowered the fat and calories in this member-submitted recipe, which contains two servings of cooked vegetables per portion! Submitted by CHEF_MEG
Carbs: 13.3g | Fat: 11.1g | Fiber: 3.7g | Protein: 22.5g | Calories: 237.7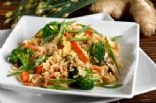 This recipe has been marked private.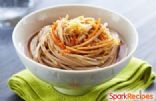 Whole Wheat Pasta with Sesame Peanut Sauce
This Asian-inspired pasta dish is so good and so quick to make and can be served hot or cold. Add some tofu for another healthy option.Submitted by BCJL13
Carbs: 39.5g | Fat: 5.9g | Fiber: 7g | Protein: 9.4g | Calories: 239.9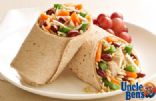 Chicken Rice & Bean Wrap
With melted mozzarella cheese, beans and chicken gravy, this tortilla-wrapped recipe will be a big hit with your family. Submitted by UNCLE_BENS
Carbs: 51.8g | Fat: 6.3g | Fiber: 7.8g | Protein: 35.6g | Calories: 406.6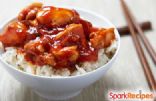 Easy Peanut and Sesame Noodles
Served cold or hot, these tangy yet sweet noodles are rich and tasty.
Carbs: 23g | Fat: 11g | Fiber: 4.3g | Protein: 7.7g | Calories: 208.2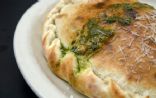 Tex Mex Calzones
An Italian favorite gets a below the border twist. Chef Meg made just a few tweaks before giving this one her seal of approval! She adds the spices early in cooking to help boost flavor and added a full pound of turkey for a more filling meal. Submitted by CHEF_MEG
Carbs: 29.2g | Fat: 14.1g | Fiber: 3.2g | Protein: 47.7g | Calories: 413.7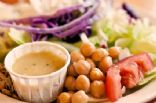 Tangy, Creamy Balsamic Vinaigrette
This is my go-to dressing. I use it on everything from steamed veggies to salads and sandwiches. Submitted by STEPFANIER
Carbs: 4.2g | Fat: 4g | Fiber: 0.7g | Protein: 1.5g | Calories: 55.5
Spicy Taco Pizza
If your family enjoys tacos, then why not top a pizza with the same delicious combination? Easy & delicious!Submitted by JST4GVN
Carbs: 13.9g | Fat: 7.7g | Fiber: 0.6g | Protein: 14.7g | Calories: 189.6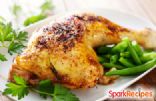 Slow Cooker Rotisserie Chicken
Those rotisserie chickens from the supermarket are a busy cook's best friend. When you have time to plan ahead, make your own--in your slow cooker! Submitted by CHEF_MEG
Carbs: 2.9g | Fat: 11.9g | Fiber: 1.2g | Protein: 41.7g | Calories: 277.8
Send this recipe collection to a friend - http://recipes.sparkpeople.com/cookbooks.asp?cookbook=934407