Salads

(Recipe Collection)
12 Recipes Created by ENGLISHGIRL
Recipes in this Collection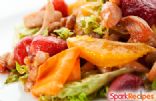 Chicken Citrus Salad
Eat this as your main dish! A whole lotta salad.
Carbs: 23.4g | Fat: 3.9g | Fiber: 5.4g | Protein: 22.1g | Calories: 211.4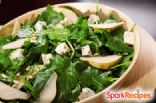 Spinach and Pear Salad with Dijon Vinaigrette
Tender spinach and sweet pears are drizzled with tangy vinaigrette, then topped with rich blue cheese and crisp red onion for a salad you'll love.
Carbs: 18.9g | Fat: 11.9g | Fiber: 3.7g | Protein: 8.2g | Calories: 205.1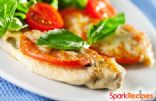 Skinny Chicken Parmesan Salad
While chicken Parmesan is traditionally fried and served with pasta, this lighter version is delightful atop a hearty tomato and basil salad. Submitted by CHEF_MEG
Carbs: 13g | Fat: 16.5g | Fiber: 2.7g | Protein: 38.2g | Calories: 353.1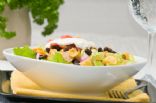 Turkey Taco Salad
This is a healthier spin on taco salad but you will still enjoy the great taste.Submitted by KTDID525
Carbs: 25.9g | Fat: 10.5g | Fiber: 7.2g | Protein: 25.3g | Calories: 293.1
Southwestern Quinoa Avocado Bowl
Stir quinoa into your favorite hearty salsa, add avocado and black beans, and what do you get? A simple meal you won't soon forget!Submitted by SPARK_RECIPES
Carbs: 45.7g | Fat: 7.2g | Fiber: 8.5g | Protein: 9.5g | Calories: 256.1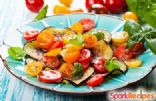 Israeli Salad
When the ingredients are fresh, salads can be simple yet impressive. This traditional, classic Israeli salad is perfect as a side, salad, or as filling for your pita.Submitted by LOULOUB
Carbs: 4.4g | Fat: 5.6g | Fiber: 1g | Protein: 0.8g | Calories: 65.2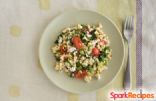 This recipe has been marked private.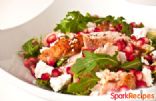 Pomegranate Chicken Salad
This seasonal salad is ready in a flash. You will love the softness of the greens with the crunch of the radish and pomegranate. Submitted by CHEF_MEG
Carbs: 19.9g | Fat: 12.4g | Fiber: 3.7g | Protein: 23.5g | Calories: 286.3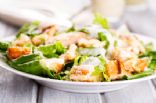 Cajun Chicken Caesar Salad
A spicy Cajun twist to the familiar Caesar salad.
Carbs: 7.4g | Fat: 5g | Fiber: 2g | Protein: 31.2g | Calories: 209.2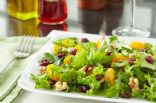 Garlic Dijon Vinaigrette Salad Dressing
Vinaigrettes are perfect as salad dressing, a dipping sauce for steamed vegetables, and a marinade for lean cuts of meats. Submitted by CHEF_MEG
Carbs: 1.3g | Fat: 4.5g | Fiber: 0.1g | Protein: 0.1g | Calories: 47.2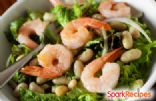 Shrimp Salad with Great Green Dressing
You will never guess that the dressing is oil free and packed with 3 cups of greens, zucchini, and avocado! I call it great green dressing. Submitted by CHEF_MEG
Carbs: 20.8g | Fat: 6.8g | Fiber: 6.7g | Protein: 22.9g | Calories: 232.1
Send this recipe collection to a friend - http://recipes.sparkpeople.com/cookbooks.asp?cookbook=934834