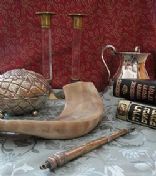 Jewish Secrets
Different Recipes that I have found or created along the way!
(4 Recipes) Created by SCHECHTER22
Recipes in this Collection
Here is a recipe for Pasach that will make a change from eating Matzas all the time - especially for people who don't like them! This recipe makes 15 small rolls.

Submitted by RAZAYOTAIR

Carbs: 9g | Fat: 8.6g | Fiber: 0g | Protein: 2.9g | Calories: 126.1

Good 3.7/5

A fun dish that tastes a lot like a kugel. My kids really liked it.

Submitted by AMTSUCHIDA

Carbs: 20g | Fat: 27.3g | Fiber: 0.6g | Protein: 12.8g | Calories: 375.9

Incredible! 5.0/5

Apple cake for Passover

Submitted by SIERRADELTA

Carbs: 25.3g | Fat: 6.8g | Fiber: 1.2g | Protein: 2.3g | Calories: 164.6

This recipe has been marked private.