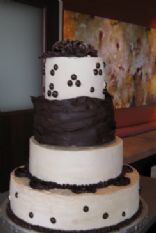 Conscious Cooking from Debra Luke
I'm a cake decorator by trade. I specialize in weddings, special occasion and sometimes unusual cakes.

However, I have to be very careful what I eat. Especially since I'm exposed to sugar all day long.
(1 Recipe) Created by DEBRALUKE
Recipes in this Collection
Cookbook creator says: This is a quick and easy weeknight "go to" recipe. Delicious and satisfying.
Submitted by DEBRALUKE
Carbs: 48.3g | Fat: 10.3g | Fiber: 5.2g | Protein: 43g | Calories: 469