More About LAYONEE
Visit My SparkPage
Send Me SparkMail
Recipes I've Shared:
Paneng Kai (Mild Thai Chicken Curry)
Paneng curry is a spicy, sweet red curry made with thick coconut milk. It is one of the more popular Thai dishes due to it's sweet, mild taste. Although it's normally made with chicken, it can also be made with lamb, shrimp, beef or pork. It usually has a thick soup-like consistency. The dish is served with a separate bowl of white (jasmin or pandan) rice.

Note:
This recipe uses ready to use thai red chili (curry) paste. If you want the real full flavour, make your own paste. You can find a recipe here: http://www.bigoven.com/recipe/3679/penaeng
-kai-penang-curry-with-chicken
Tom Ka Kung (Spicy Thai Coconut Soup With Shrimp)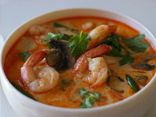 A very tasty thai coconut/curry soup with shrimp!
Recipes I've Rated:
LAYONEE currently has no rated recipes.


Recipe Collections I've Shared:
Layonee's Favorite Asian Dishes
I <3 asian food! Especially Thai food :) I cycle my caloric, carbohydrate and protein intake, but one day a week I allow myself to eat whatever I like! These are some of the recipes I use when I want to pamper myself (and others) I hope you'll enjoy these dishes as much as I do! Bon Apetit!

Delicious & Healthy!
Fresh vegetables, fruits, herbs, low-fat dairy, soy products, whole grains and lean protein are wonderful staples, but many people think "healthy food" is boring or tasteless! That's not true of course. Preparing healthy AND delicious food starts with the right cooking techniques and ingredients!

Sin Time!
Delicacies and rich foods to satisfy your cravings! I cycle my caloric, carbohydrate and protein intake, but one day a week I allow myself to eat whatever I like! These are some of the recipes I use when I want to pamper myself (and others)