More About CONNIE563
Visit My SparkPage
Send Me SparkMail
Recipes I've Shared:
Breaded Chicken Parmesan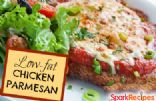 The same great taste of the Italian favorite, but this one only has five grams of fat!
Meatloaf with a Surprise
Tired of the same ol', same ol' meatloaf? Try this delicous original recipe and you'll want to make it again and again!
Recipes I've Rated:
CONNIE563 currently has no rated recipes.