More About RCWILKINSON
Visit My SparkPage
Send Me SparkMail
Recipes I've Shared:
No-Bake Layered Pumpkin Pie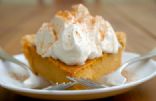 This recipe is a lighter twist on a fall favorite.
Pumpkin Carrot Muffins
These muffins make it easy to eat your veggies. I grate the carrots really fine and the kids don't even notice they are there.
Recipes I've Rated:
RCWILKINSON currently has no rated recipes.