More About FLORIDAJOE1
Visit My SparkPage
Send Me SparkMail
Recipes I've Shared:
Joe's Chicken Garbanzo Panang Curry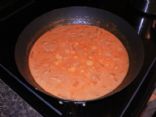 Made this one up to feed me and the boys on Mom's night out. Too spicy for her. Great on Jasmine rice.
Low Country Chowder
This is what I did with the left overs from a low country boil after eating all the crab out of it.
A very fattening recipe that has no business on this website. Sorry about that.