More About MARLAHIKES
Visit My SparkPage
Send Me SparkMail
Recipes I've Shared:
Spicy Eggplant with Tofu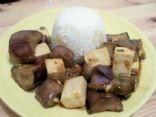 I love this dish at Panda Express. This is my lower fat version...one of my favorites!
Vegan Chili
I switched out the meat and made our favorite chili vegan. I'm estimating that it makes about 12 cups based on the ingredients. I've never actually measured :-)
Recipes I've Rated:
MARLAHIKES currently has no rated recipes.