More About LRVIS1985
Visit My SparkPage
Send Me SparkMail
Recipes I've Shared:
Low cal iced coffee
Very expensive at a certain coffee-chain, you can actually save money (and have the knowledge what's in there) by making this delicious low calorie iced coffee.
very low cal pizza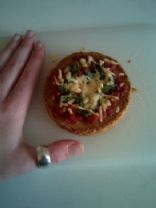 when you crave pizza... less than 70 cals!
Recipes I've Rated:
LRVIS1985 currently has no rated recipes.


Recipe Collections I've Shared:
Low's low-cal treats
All my self-discovered (either made it myself or found it on the internet) low calories recipes. Must be <150 cals