More About MERCURY282
Visit My SparkPage
Send Me SparkMail
Recipes I've Shared:
Vegetarian Chili
I make this for me and add browned ground beef to it for the hungry hubby. Great served with rice or over a baked potato (not included in nutritional info)
Mixed Berry Oatmeal cookies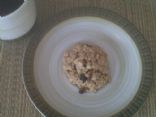 A good breakfast cookie or afternoon pick me up. Small batch to reduce temptation!