More About FLABTOFABWSANA
Visit My SparkPage
Send Me SparkMail
Recipes I've Shared:
Chicken Chapli Kabab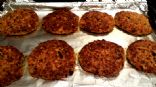 Chapli Kababs are a famous street food that come from the Northwest province of Pakistan. They are typically made with minced beef & pan fried using fat drippings.

Here is my take on them using Shan Spice Mix packet.

For more information on how & why I have changed the ingredients check the following link http://flabtofabwithsana.tumblr.com/post/7
3359700414/my-healthy-twist-on-chapli-
kababs
Greek Rice with a Twist
I was looking for Greek Rice recipe online & browsed through several of them & then came up with this recipe. You can add feta cheese if you like. I have not added any to save calories.
You can also use any other vegetables as per your preference.
Recipes I've Rated:
Recipe Collections I've Shared: