More About CATBEHAVIOR
Visit My SparkPage
Send Me SparkMail
Recipes I've Shared:
Quick n' Easy: Chia Seed Ambrosia Porridge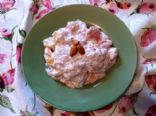 Okay, not "technically" ambrosia...but you'd swear it was made from the Gods!
Strawberry & Bannana Chia Smoothie
This tasty smoothie is full of Omega-3 and fiber. Chia seed is a great, neutral tasting, super food!
Recipes I've Rated:
CATBEHAVIOR currently has no rated recipes.


Recipe Collections I've Shared: