More About FLUFFITUDE
Recipes I've Shared:
My Famous Chili Revised for Ground Turkey
Chili is not an exact science. You can add more or less of whatever you want, but I would keep the seasonings pretty much constant. Especially the cocoa - it's what makes this recipe, IMO.

I added two stripped ears of corn to this batch, as I had them on hand. Was delicious!


Mini Puff Pancakes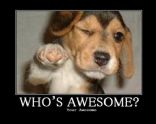 Add all to a blender..it works better then using a mixer. The results are a cross between a souffle and a mini German pancake.
Recipes I've Rated: