More About TEXASBUSYMOM5
Visit My SparkPage
Send Me SparkMail
Recipes I've Shared:
Sugar Free Pumpkin Smoothie
BEWARE of the so called Health Drinks! Low-Fat usually means more sugar! Instead, use milk substitutes, you won't know the difference, REALLY! This is equally creamy and better for you!
Beef Stroganoff - The Healthier Version
I've taken the traditional recipe that is usually made with a high fat content and made is equally as tasteful and considerably less fat. In addition, I have used whole wheat pasta and a secret ingredient that makes everyone ask me for the recipe...
Sugar Free, No Bake, Pumpkin Pie Cheesecake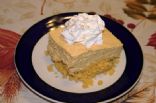 OH! This is one of my favorite Autumn-time treats! Amazingly delicious and extremely easy to make. No baking required. Mix, chill, eat!
Recipes I've Rated: